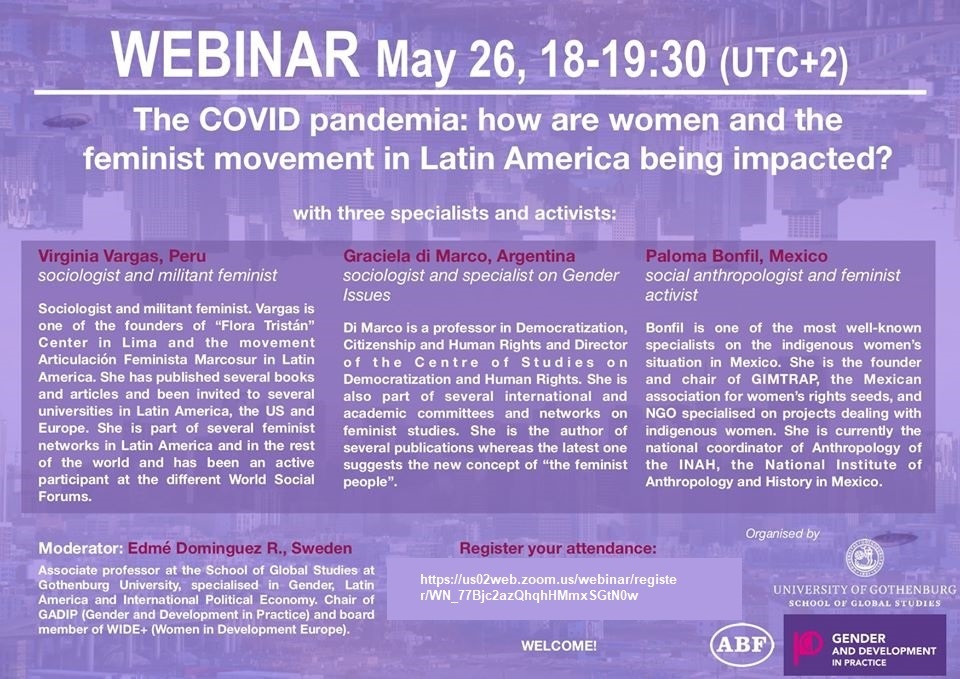 26 may 2020 06:00 PM in Amsterdam, Berlín, Roma, Estocolmo, Viena
This webinar will give analysis and insight into how the COVID pandemia and the different government's measures are impacting women and the feminist movements in Latin America. It is organized by WIDE+ member GADIP in Sweden in collaboration with the University of Gothenburg, school of Global Studies, and the ABF.
Orators
Virginia Vargas (Peru)
Sociologist and militant feminist, she is one of the founders of "Flora Tristán" Center in Lima and the movement Articulación Feminista Marcosur in Latin America. She has published books and articles and is renowned speaker at Universities in Latin America, the US and Europe. She is also part of several regional feminist networks in Latin America and international ones.
Graciela di Marco (Argentina)
Di Marco is a professor in Democratization, Citizenship and Human Rights and Director of the Centre of Studies on Democratization and Human Rights. She is also part of several international and academic committees and networks on feminist studies. Her recent publication suggests the new concept of "the feminist people".
Paloma Bonfil, Mexico
Bonfil is one of the most well-known specialists on the indigenous women's situation in Mexico. She is the founder and chair of GIMTRAP, the Mexican association for women's rights seeds, and specialized in projects dealing with indigenous women. She is currently the national coordinator of Anthropology of the INAH, the National Institute of Anthropology and History in Mexico.